From October 15 to December 15 After Happy Hour is running our first contest! Here are the key facts:
How much is it?
Each entry fee is $10. That covers either 1 long prose work (fiction or CNF), or a packet of 1-3 poems or flash-length prose (1,000 words or fewer per work).
What's the theme?
The images that will be published in the issue are the theme for the contest. The full images can be seen on our website and there are smaller versions on the contest form below.
We don't expect anyone to write completely new work for this contest (although if you want to, go for it!). It's more that we want stories, poems, and essays that have already been written, edited, and polished that connect or relate to the theme images. This can be literal, metaphorical, or tongue-in-cheek. A piece on the theme of "Bunny with Pig II" could be a CNF piece set on a farm, a story involving a pig, or a poem that uses fences as a metaphor (just to name a few interpretations).
What do the winners get?
We'll choose one prose winner and one poetry winner, each of whom will receive 15% of the total entry fees paid for the contest--the more people enter, the more you stand to win. Pre-orders of the issue added on to submissions will also be included in the total prize pool.
We'll also choose up to 3 honorable mentions, who will share 15% of the total entry fees (5% each if we pick 3, 7.5% each if we pick 2, the full 15% if we only pick 1).
We'll be periodically updating the top of the submission form with the current number of submissions and total entry fees to give participants an idea of how much is at stake for the winner.
Where does the rest of the entry fees go?
Winners and honorable mentions will collectively receive 45% of the total entry fees. Submittable keeps $1.49 of each $10 entry, so about another 15%.
The remaining 40% will first go toward production of the print issue, including the cost to print and ship the physical copies and payment for the artists who created our theme images.
If we have extra left over, we'll split it between the contributors and our current donation target, Words Without Walls.
Are you capping total submissions at 500?
The 500 submission limit is a soft limit. If it seems like we're at risk of hitting this submission cap before December 1st, we'll likely raise it. After December 1st, we'll raise the limit only if we haven't yet filled all the prize slots (we want the winners to get as much as possible, but we also don't want anyone to waste their time submitting if we already know which works we're leaning toward).
Where and when will the winners be published?
The winning works, along with the theme images and honorable mentions, will be published in After Happy Hour's first print issue, to be released in Spring 2022.
All works submitted for the contest will be considered for inclusion in the issue. If we do choose works beyond the prize winners, those writers will receive a complimentary copy and a token payment (basically whatever's left over after we dole out the prizes and pay to print the issue).
When will I know if I won?
We'll be sending out rejections on a rolling basis. We plan to notify all winners, honorable mentions, and other contributors by the end of January 2022.
Wait, weren't you doing this through Kickstarter?
That was the initial plan--we thought it would be a cool way for submitters to see exactly how much we'd gotten in entries--but Kickstarter understandably doesn't do contests, and we ultimately decided the simplest option is to run the whole thing through Submittable and just be up-front and open about our numbers.
We'd love to find a more transparent way to run future contests, though! We'll keep doing research on our end, but if submitters and readers have any suggestions you can shoot us an e-mail at AfterHappyHour [at] gmail [dot] com.
What about free and and feedback-for-donation submissions?
They'll be back! We'll reopen both in February 2022 for our next online issue.
------
After Happy Hour is a free online literary journal that comes out twice a year in fall and spring. We're not limited to any particular genre, and publish poetry, fiction, creative non-fiction, and visual art. Our headquarters are based in Pittsburgh, but the journal is not exclusive to Pittsburgh-based writers.
Be bold and take risks, make an impact and make it early. Don't give us characters that mildly care, plots that kind of make the reader turn the page, or language that sort of places us in the heat of the story. AHH favors the audacious.
Ends on
This opportunity will close after

500

submissions have been received.
For this issue, we're looking for our usual weird, wonderful works--but with a twist. All work submitted must have some connection to the theme images. This can be slant, tongue-in-cheek, or a straight literal interpretation--a work that connects to the theme of "Aspen Grove", for example, could be an essay on nature, a poem using trees as an image, or an idiomatic interpretation (e.g. a character who can't "see the forest through the trees"), just to give a few possibilities.
Thumbnails of the theme images are included below. You can see larger versions on our website.
Update 10/23 (end of week 1): We have received 10 submissions ($70 in entries). Too early to make many predictions, but if that pace keeps up we'll end up with about 90 entries by the end of the sub period and winners will each get about $135. We'll post another numbers update next Saturday!
#1: "The Music of Orphan Rock" by Oormila Vijayakrishnan Prahlad
#2: "Bunny with Pig II" by Brendan Elefante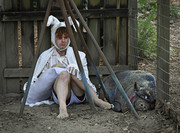 #3: "Franconia Gas" by Michelle McElroy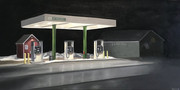 #4: "Autumn Woods" by Kathryn Leonard-Peck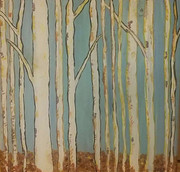 #5: Untitled by Katie Hamill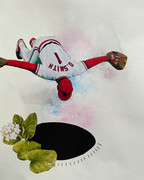 More nuts-and-bolts guidelines:
Poetry: A single entry fee covers 1-3 poems (every 3 poems must be accompanied by a $10 entry fee). All poems will be considered individually unless it's noted in the document that they should be considered as a set/suite. Please remove any identifying information from the file before submitting.
Prose: Work in this category can be fiction or creative non-fiction. A single entry fee covers 1 longer work (over 1,000 words) or 3 flash-length works (1,000 words or fewer). There is no maximum word count, but bear in mind this is a print issue (e.g. space is not unlimited), so anything longer than 5,000 words must be truly exceptional to merit consideration. Please use standard manuscript formatting (12-point Serif font, standard margins, double-spacing for works longer than 1 page), and remove identifying information from the document before submitting.
General Guidelines:
Please include a brief (100 words max) 3rd-person bio with your submission.
To limit editor and reader bias, we read all submissions blind. To this end, we ask submitters to remove their name and contact information from the document before submitting it.
Use standard manuscript format (11- or 12-point Serif font, standard margins/spacing). We won't reject you for weird spacing or a bad font (probably), but following this standard makes things easier to read, and that makes the editors happy. Poets/experimental prose writers have more liberty here if the non-standard formatting is used for stylistic reasons. Straightforward prose writers have no excuse.
We accept submissions only through Submittable. Submissions sent to our e-mail will be deleted unread.
Multiple submissions are allowed, but each submission must be accompanied by its own $10 submission fee.
Hybrid works are a-okay (and encouraged!), and can be submitted under whichever category you feel best fits the work. However, please do not include individual prose works and poems in the same packet. If you want to submit both poetry and flash fiction they should be submitted separately under their respective categories.
Simultaneous submissions are accepted for the contest. However, your entry fee will not be returned if the piece is accepted elsewhere and you need to withdraw it.
If you need to withdraw a longer prose piece, or an entire packet of poems or flash prose, you can choose the "withdraw" option on Submittable. To withdraw a single poem or flash piece from a packet, you can message us through Submittable or e-mail us (afterhappyhour [at] gmail [dot] com).
Accepted submissions may be edited for grammar. All changes will be sent to the author for approval before publication.
We acquire first publishing rights and electronic archive rights. All other rights are retained by the author. Following the work's publication in After Happy Hour, you can re-publish and anthologize your work as you see fit. Content can be removed from the website on request, but cannot be removed from the issue in which it was published.